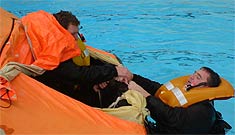 BOAT SAFETY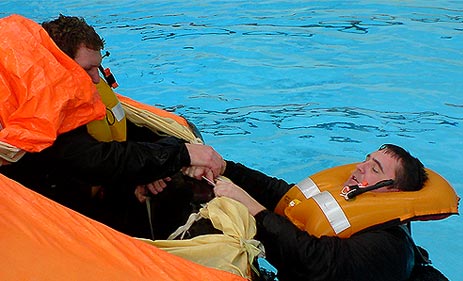 No matter how much experience you have, it ís always a good idea for everyone to review boating safety rules before departures. Read below to familiarize yourself with these basic boating safety tips:

Wear a Personal Flotation Device (PFD) -
Ninety percent of those who drown in boating accidents were not wearing a life jacket. It is Irish law that there must be a lifejacket onboard for all passengers and crew, and that persons under 16 years of age should wear them at all times. Always wear a PFD and insist everyone onboard also wears one.

Don't Drink While Boating -
Never use drugs or alcohol before or during boat operation. The probability of being involved in a boating accident doubles when alcohol is involved. Alcohol's effects are greatly exaggerated by exposure to sun, glare, wind, noise, and vibration. Boating Under the Influence is very dangerous.

Take a Boating Safety Class -
In 70 percent of all boating fatalities the operator has never taken a boating safety class. Novice boaters and experienced experts alike need be familiar with boating safety rules of operation. You can learn boating safety rules by taking a course, or even through online tutorials.

Take Charge of Your Safety -
Boating like a professional means being prepared for boating emergencies.
Make sure your engine is properly maintained/serviced and the battery is properly charged. Engine checks should include oil levels and coolant. Make sure you also have enough fuel for the voyage, including a reserve for any emergencies.

Operate Conservatively and Maintain a Lookout -
Operating at high speeds shortens reaction time and increases the energy contributed to a collision. Slow down for weather, poor visibility, crowded conditions, and navigational hazards. Keep a good lookout and encourage your passengers and crew to watch for boating hazards.

Check the Weather -
Keep track of the weather and know the current marine forecast. Weather information is readily available from the National Weather Service through marine VHF radio broadcasts, the internet, and by telephone. Be aware of the weather limitations of your vessel.

Check your communication methods -
Check your marine radio is working properly. Do NOT head offshore without a marine radio. VHF radio may be required for extended offshore voyages.
Dont rely on a mobile phone for distress communications at sea.

Install a CO Detector -
Carbon Monoxide (CO) is hazard to boaters and use of a CO detector is a very inexpensive insurance.

Install a Fire Safety System -
Marine fire accidents are extremely dangerous, install a fire suppression system to protect your valuable investment and to assure your safety.

File a Float Plan -
Let others know (inform a family member or friend) where you plan to operate and where you're going and how long you're going to be gone. A float plan can include the following information: name, address, and phone number of trip leader: name and number of all passengers; boat type; types of communication and signal equipment onboard.

Brief everyone on board on emergency procedures:
Make sure more than one person on board is familiar with all aspects of the boat's handling, and other boating safety tips. If the primary navigator is injured or incapacitated in any way, it's important to make sure someone else can follow the proper boating safety rules to get everyone else back to shore.

The skipper should also provide a more intensive briefing to at least one other person who will be going on the voyage or trip regarding the following:

• Location of liferafts and the method of launching
• Procedures for the recovery of a person from the water
• Location and use of fire-fighting equipment
• Procedures and operation of communications equipment
• Location of navigation and other light switches
• Method of starting, stopping, and controlling the main engine
• Method of navigating to a suitable place of safety

Above all - Use Common Sense
One of the most important parts of boating safety is to use your common sense. This means operating at a safe speed at all times, especially in crowded areas. Be alert at all times, and steer clear of large vessels and watercraft that can be restricted in their ability to stop or turn.

Always test your boat lights before the boat leaves the dock and carry extra batteries. Finally, make sure you have an anchor and you can properly use it. Improper anchoring may cause fatal accidents.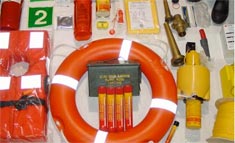 SAFETY COMPLIANCE
Do you know what safety equipment you should carry on board? Are you aware of the laws and regulations that apply to your vessel? Was your safety equipment serviced within the required timeframe.

Truelight Marine pride ourselves on our expertise and knowledge with regard to marine safety and regulations.

Let us ease your burden of knowing what the correct equipment is that you need to purchase and making sure that you comply with all the relevant / applicable regulations.

more about safety compliance >>