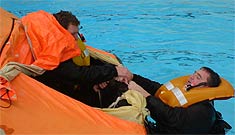 BOAT SAFETY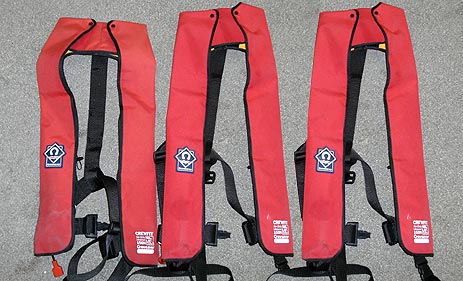 What is a Personal Floatation Device?
This is a generic term used to describe lifejackets and buoyancy aids. The main difference between lifejackets and buoyancy aids is that a lifejacket is designed to turn an unconscious person face up on entering the water. A buoyancy aid is not guaranteed to do this and is as the name describes, an aid to keeping you afloat. Wearing life jackets allow people to safely enjoy fishing, boating, skiing, wakeboarding, kneeboarding, sailing, kayaking, and canoeing on oceans, lakes, rivers, and streams.

Regulations
Safety regulations governing the use of boats are specific to each type of vessel. Every shipping vessel, regardless of size, must carry lifejackets/personal flotation devices for each person on board.

Everyone on board a vessel of less than 23 feet (7.0 metres) in length must wear a lifejacket/personal flotation device.

Wearing Personal Floatation Devices
Most boating fatalities occur in incidents involving small craft, and more than 80% of drowning victims were not wearing a PFD. Everyone aboard the boat should have a PFD that fits them. Your PFD won't work if you are not wearing it. It is vital to wear a buoyancy aid or a lifejacket whenever you are on deck, out in an open boat or on open quays, docks and marinas. You must ensure that it is the correct size, properly fastened and that you understand how to operate it. Get your children in the habit of wearing comfortable life vests all of the time.

Caring for your Personal Floatation Device
Your PFD could save your life, so it is important to look after it. You should have it serviced in accordance with the manufacturer's recommendations. On a regular basis, you should visually check the PFD for wear and tear, especially at the folds, straps and fastenings. On inflatable lifejackets, check to see if the gas bottle is full, fitted correctly and has no signs of corrosion. If your PFD is looking tatty it may not work so get a new one.

Choosing the right Personal Floatation Device?
Personal floatation devices are available with foam-only buoyancy, air foam buoyancy or air-only buoyancy. The most suitable type for you will depend on the type of activity and the distance you are likely to be from the shore. Choose from several different classifications of life jackets, vests, and life preservers.

Life Jacket Classification Guide
Type I PFD - Off-Shore Life Jacket
This jacket provides the most buoyancy and floats the best. It is reversible, easy to put on and designed to turn most people who are unconscious in the water from the face-down position to an upright and slightly backward position. It is effective in all types of water, especially where rescue is delayed.

Type II PFD - Near-Shore Buoyancy Vest
This jacket is intended for calm, inland water or where a quick rescue is possible. Will turn some unconscious wearers to a face-up position in the water

Type III PFD - Flotation Aid
Good for conscious wearers in calm, inland water or where a quick rescue is possible.

Type IV PFD - Throwable Device
Intended for calm, inland water with heavy boat traffic wear rescue is always possible. Designed to be thrown to a conscious person in the water. They are not designed to be worn.

Life Jacket Safety Tips


It is important to test a PFD in shallow water or a guarded swimming pool to make sure it fits appropriately and is in proper working order.
Be sure to always check the condition of your life jacket(s) before heading out for any watersport activity.
When boating, make sure you always have enough life jackets on board for every passenger.
The size of life vest you buy depends on your weight and size
Always keep your vest in a place you can access in a reasonable amount of time in an emergency (vessel sinking, on fire, etc.).
Life Jackets should not be stowed in plastic bags, in locked or closed compartments or have other gear stowed on top of them.
Children should wear life jackets at all times when on boats or near bodies of water.
Teach your child how to put on his or her own life jacket.
Make sure the life jacket is the right size for your child. The jacket should not be loose. It should always be worn as instructed with straps belted.
Adults should wear life jackets for their protection and to set an example.
Inspecting your lifejacket
Regularly inspect your lifejacket for wear and tear. Follow the care procedures as described in your owners manual.

Servicing of your Lifejacket
We recommend that automatic lifejackets should be serviced at least every 12 months by a qualified agent. Truelight Marine will be happy to arrange an approved service for you, please email for us for more details.

If you have any enquiries relating to lifejackets or Personal Floatation Devices for your vessel, please call us on (087) 280 7028 or e-mail us at info@truelightmarine.ie.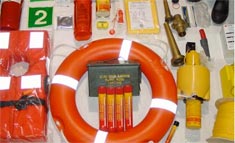 SAFETY COMPLIANCE
Do you know what safety equipment you should carry on board? Are you aware of the laws and regulations that apply to your vessel? Was your safety equipment serviced within the required timeframe.

Truelight Marine pride ourselves on our expertise and knowledge with regard to marine safety and regulations.

Let us ease your burden of knowing what the correct equipment is that you need to purchase and making sure that you comply with all the relevant / applicable regulations.

more about safety compliance >>