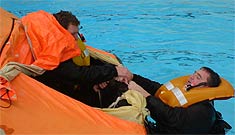 BOAT SAFETY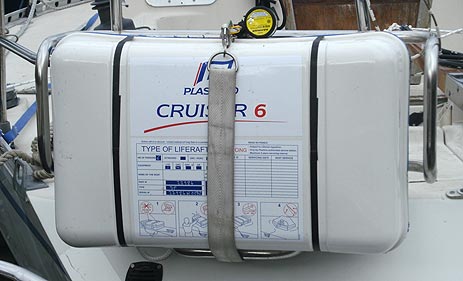 A liferaft is a small inflatable watercraft carried for emergency evacuation in the event of a disaster aboard ship. Inflatable Life Rafts are an essential but sometimes forgotten piece of safety equipment aboard both recreational and commercial vessels.

Why purchase a Liferaft?
Although most recreational boaters will never be in a situation that requires an inflatable life raft, it is always better to be prepared for the worst. You just never know when things might go wrong and rescue could take more than a few minutes or even hours…

The initial outlay on the cost of a liferaft can seem excessive to many occasional boaters. But given that most incidents occur well within view of the land, going without such an essential piece of safety equipment can be a very dangerous omission. When selecting a liferaft, always purchase from a reputable manufacturer and make sure it has an established service network.

Accidents, whether fire, collision or sinking, don't just happen to others. As confident as you may be about your vessel, unforseen incidents can happen. Even with modern high performance communications that allow your position to be rapidly and accurately pinpointed, setting off a beacon or launching a Mayday is no guarantee of rescue.

Help may take time coming or be unable to respond immediately and whether you're a good swimmer or not, a life raft is the only real protection that you can get against the wind and cold.

A life raft increases your odds of survival. A life raft may not be the most comfortable or largest of crafts but it can give you the peace of mind to set out and enjoy your voyage, properly prepared.

If you have any enquiries relating to liferafts for your vessel, please call us on (087) 280 7028 or e-mail us at info@truelightmarine.ie.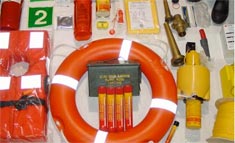 SAFETY COMPLIANCE
Do you know what safety equipment you should carry on board? Are you aware of the laws and regulations that apply to your vessel? Was your safety equipment serviced within the required timeframe.

Truelight Marine pride ourselves on our expertise and knowledge with regard to marine safety and regulations.

Let us ease your burden of knowing what the correct equipment is that you need to purchase and making sure that you comply with all the relevant / applicable regulations.

more about safety compliance >>