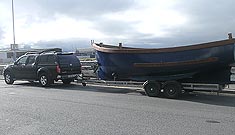 BOAT TRANSPORT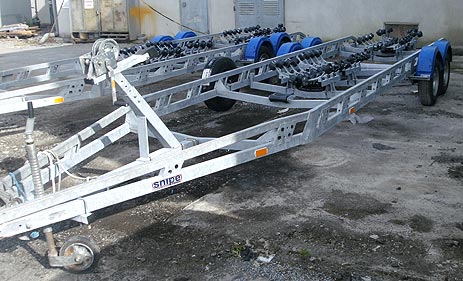 It is illegal to tow a defective trailer and since a trailer is considered as part of the car when you are towing, it could render your car insurance invalid in the event of an accident. Maintaining your boat trailer can save you hundreds of euro and also ensure that you keep from breaking the law.

There are particular things on your trailer that you will need to frequently test and maintain. A few of these checks are below;

Essential Preservation Checks

Trailer Tyres
The trailer tyres need to be continually checked for cracks or impairment. You also need to be sure that the pressure of your tyres is kept in the range as recommended by the manufacturers and that the tread has not been worn out. You should also always transport a emergency tyre for the trailer in addition to your vehicle.

Trailer Frame
The trailer should be examined for any hairline cracks at the weld and stress points, and make certain that the frame has not been corroded from oxidation and that its suitably robust. Checks also have to be carried on the brakes as well as on the lights especially if you are going to be travelling in dark conditions.

Bearings
You should examine and replace any bearings that are suspect.
If you hear a rubbing or grinding noise it is time to replace your bearings. You should also make certain that you change the hub seal after your inspections.

Tow hitch
Make sure that the moving parts are free and the hitch closes correctly when it engages the car's tow bar.

Suspension
Jump up and down each side of the units and ensure there is sufficient movement so that any uneven road services will not result in the suspension units bottoming out.


Frequency of Servicing & Checks
The frequency of servicing and checks depends on trailer type and frequency of use, but a typical outline guide is as follows:
Before each journey – thorough safety check should be carried out.
Every 5000 km - for boat trailers with intensive usage.
Every 10,000 km - for leisure boat users - service annually.


Having a trailer for your boat allows you the freedom to boat just about anywhere, and transporting your boat is great way to explore lakes, rivers, and bays in your county or province. It also comes with great responsibility for you, your boat and the general public who could be affected if there is any problem with your trailer while in transit

Routine checks should be done on the trailers axel, mounting brackets, brakes, springs, rollers and carpets. Conduct routine maintenance by having a friend or family member occasionally stand behind your trailer and make sure the brake lights, taillights and turn signals are in good working order. Anything that could be suspect deserves special care and consideration.

As with your boat, a thorough freshwater wash down of your trailer after each use will extend the life of your hubs and lights.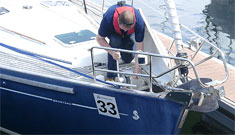 BOAT MAINTENANCE
To ensure the maximum enjoyment of the season, Truelight Marine offer service programs, available weekly to suit your needs.
more about boat maintenance >>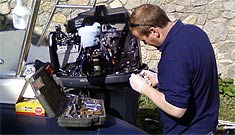 BOAT REPAIRS
Truelight Marine specialises in boat repairs, generally carried out on-site, but we also offer to repair your boat or boat engine at our workshop.
more about boat repairs >>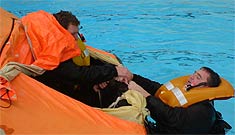 BOAT SAFETY
While accidents do happen, knowledge and preparation go a long way toward returning to the dock safely.
more about boat safety >>